Summary
The family-owned Forrest Hills Resort accommodates individuals, couples, weddings, corporate groups, family reunions, etc., in a variety of come-hither accommodations: 32 private cabins, each with hot tub and fireplace; 12 luxury bi-level suites with steam sauna and other amenities; and private hotel with 4, 8, 12 and 16 room units. There are 7 meeting rooms, 4 dining rooms, including the Secret Garden for couples and the Rose Garden that can be dressed up or down from formal to casual banquets for up to 200 guests.
There is an outdoor wedding pavilion and "Chapel in the Woods" and the resort has an on-site wedding coordinator. Bridal couples may choose a fairy tale wedding package that includes a chapel or outdoor gazebo wedding, horse-drawn carriage ride, reception, hot tub cabin, candlelight dinner, spa treatment and more. Eloping couples (Shhh!) can opt for the resort's Elopement Package and let the resort arrange for officiant and every other detail.
Activities include horseback riding, horse-drawn carriages/tours, swimming pool and tennis and a gift shop. There are With 3 golf courses within a 10 to 20 minute drive and, also nearby, Dahlonega's charming old-fashioned town square.
For a delightful story from Northpoints Magazine  – 
Krafting A Dream By Kathy Witt
A premiere mountain resort with charmingly appointed cabins cozied up with fireplace and hot tub, some with canopied beds and covered porches, some with a private deck, one with a goldfish pond, and all in a wooded wonderland whose picturesque scenery lends itself to fairy tale nuptials and romantic escapes. . .It's what happens when you put two teenagers on a 140-acre piece of forestland (with no electricity or running water) with a hammer, some bean sprouts and a dream as big as the Great Outdoors.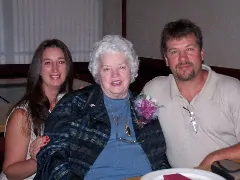 Back in 1977, Forrest Hills Mountain Resort in Dahlonega was a wilderness without a name in Northeast Georgia. The land had been purchased by Frank Kraft who wanted a place where people could unwind, forget about the outside world and recharge their batteries.
That summer, he "dropped into the wilds" his 17-year-old son, David, and 19-year-old daughter, Denise. Arriving from the Florida flatlands of West Palm Beach where the family lived, the two Kraft siblings shared their father's vision of what could be and had more than enough enthusiasm to compensate for the experience they lacked.
"I always loved Daniel Boone and Davy Crockett movies," recalls David, who had literally walked across the stage at his high school, picked up his diploma and then headed to Dahlonega. "I loved the mountain climate and the quiet. I was thrilled to be here."
Denise, who grew up dreaming of one day living in a cabin in a pine tree-covered mountain, likewise had picked up her college diploma for an associate's degree in speech and drama, spent the next day learning to drive a "stick shift" and followed David in the moving van.
"I did not think about how I was going to do it," says Denise. "I just knew that somewhere in time I was already there on a farm in the mountains."
Seven hundred miles later, an adventure not unlike those of David's childhood TV heroes would begin.
The house that 'jack' built
. . .Meaning, neither David nor Denise knew 'jack' about building a full-scale resort, much less a log cabin. Yet build the cabin they did and then followed it up with five others—and all without benefit of electricity.
"I came here with the most building experience and that was very little," says David, laughing. "My dad had taken an architect's class and had more practical knowledge and he would fly up every couple of weeks and show us something."
The two worked with hand tools and used a clear hose filled with water for a level. They hauled their water from the creek. Construction plans were sketched on placemats at local restaurants during their father's visits.
They bathed (without soap) in the mountain creek, hand-cranked drinking water from a 110-year-old, hand-dug well and ate mostly raw food. When summer turned to fall and fall gave way to winter, the two endured the second coldest winter in Georgia's history with temperatures hovering below freezing for nearly eight weeks. And they did it with one set of clothing each that they both worked and slept in, right down to their shoes.
"We were living the life of Davy Crocket," says Denise. "I wouldn't do it again, but it was such a wonderful old west way of living."
Meals consisted of a mixture of beans and sprouts that David and Denise, vegetarians at the time, called "gorp." Gorp was supplemented by "yuk" (gorp mixed with peanut butter) and "gross," which meant eating gorp and yuk three times a day.
"We are no longer vegetarians," David admits.
Every couple of weeks, their father would fly to Georgia to take the two to a restaurant dinner. For the first six months, their 21-year-old brother, Stephen, had assisted with the construction; then he moved west. Neighbors Lois and JB Anderson invited the two to dinner on occasion and Denise vowed then that, when the Krafts had their own restaurant, they would serve the same home-grown, country food that made their mouths water at the Andersons' table.
"Dahlonega really was the place of my dreams," she says.
She and David both fell in love with the area, surrounded by the layered peaks of the Blue Ridge and at the first steps of the Appalachian Trail, and its history. Dahlonega was the site of the first gold rush in U.S. history in 1828.
"It's steeped in stories about mining gold, about cowboys and Indians fighting over the land, farmers taming the soil and the birth of stock car racing when cars loaded with moonshine would outrun the Feds.
"There were at least 19 stills found on our property (no longer in operation, of course) when we purchased it back in 1977."
Both felt the possibilities, too.
"We came with a sense of passion to create a healing place," says Denise. "We had nothing to compare it to; we just were ruled from the heart.
"We wanted to invite people to our home and so we made it our home—a big home. We knew what we loved and that's what we presented."
Hard-knocks meets can-do
Denise and David, and their younger sister, Michele, who now handles the marketing side of the business, agree that everything they learned about running a premiere resort came jointly from the heart and the school of hard knocks.
"Nobody wanted to give us a loan," says David, referring to those early days in the late 1970s. "The phone company didn't want to connect us. The power company didn't want to hook us up.
"We never had trouble working together. But figuring out how to do the building was a challenge—that, and surviving the cold and being accepted since we weren't locals."
The two pressed on. They learned it was best not to build a fire for warmth—even in freezing temperatures—because they just felt colder when they moved away from it. They learned to modify building plans as they went along and David discovered that he had a knack for creating something from virtually nothing and with very little pre-planning.
Over the years, guest input has provided valuable and, in many cases, heeded suggestions: a restaurant, horseback riding, walking trails, meeting rooms, all-inclusive packages—even the Victorian style cabins.
"If it wasn't immoral, illegal or life-threatening, their wish was our command," says Denise. "After three times of hearing the same suggestion, we made it happen.
"If we could conceive it, we could achieve it."
That collective can-do spirit, the trio say, is a direct reflection of their upbringing.
Says David: "Mom was very big on showing us how to do things and the importance of doing things. She liked us being creative. Dad was always a big doer, tinkering with one thing or another.
"For Christmas, we kids would cut small trees and palm frond leaves and build a life-size live manger in the yard (yes, we were the live people). When Denise and I were 10 and eight-years-old, we collected bottles and aluminum cans to earn money to buy a lawn mower and edger and started a lawn care service for our neighborhood at $5 a yard."
"We haven't ever been told, 'You can't do that,' adds Michele. "And if we got told we couldn't do something, we had to show people we could."
The Kraft formula has paid off: Since 1991, the resort has enjoyed an average 60 percent return-guest rate—nearly unheard of in the hospitality industry, according to Denise, who would know—both by experience and, more recently, education.
With a Bachelors' dual degree in Craft Design and Marketing and Business Administration under her belt, Denise recently spent several summers in Quebec and Montpellier, France, to learn French in order to attend the two top hospitality and tourism schools, located in Switzerland, in the world. In June of 2003, Denise graduated from Hotel Institute Montreux with a degree in Hotel Operations and, in June of 2005, from Ecole Hoteliere de Lausanne with a Masters Degree in Hospitality and Hotel Management.
"My husband spent his entire inheritance on furthering my education," says Denise, who repaid his faith in her by earning a 97 percent average at both schools—the highest anyone has ever achieved in 100 years at Hotel Institute Montreux, a school with a 60 percent failure rate.
"After 25 years of working at the resort, we learned we were doing it right. We were spot on, 20 years ahead of anyone else in term of how we do everything and how we treat our employees.
"There's no rule book," Denise reiterates, "just our hearts."
And 'baby' makes three
In 1988, Michele, seven and five years younger respectively than Denise and David, began handling the public relations and marketing for the resort.
"I was the baby of the family and Denise and David thought I was a spoiled brat and I probably was," she admits, noting that she had business instincts even as a five-year-old when she charged parents a nickel to watch skits she and her friends created. "Growing up, I remember being the party house and helping my mom make and prepare the food.
"My biggest thing was that I liked to have fun and plan parties."
Michele's first stint at Forrest Hills occurred while she was in high school, answering the phones and cleaning cabins. After graduating in 1982, she went to cosmetology school, got married and moved to New Jersey, returning to the mountains after divorcing her husband.
Along the way, though, Michele's interest in the business side of things combined seamlessly with her talents in party planning and photography and she became the perfect family member to round out Team Kraft.
"The neat thing about our family business is that we each have our parts: David builds it; Denise decorates it; and I tell people about it."
David is in charge of construction and the grounds, including landscaping and removing trees when necessary (as it was in 2005 when 20,000 pines were removed due to the pine beetle infestation that is hitting the United States).
"I like putting flowers and surprise bushes in here and there and having beautiful, natural trails," he says. "We really want to keep the place looking natural and in harmony—cabins and woods and flowers. I want native plants and hardwood thickets where people feel like they are walking through the woods, not some manicured place."
Denise decorates the cabins as well as manages the resort's restaurants. The family's policy is to prepare everything from scratch (including cutting and peeling by hand), to use local farm-raised, organic food whenever possible and to meet their guests' special requests and dietary needs.
"In the summer, we have the water pot boiling when the farmer picks the corn and we know the active enzymes are still viable," she says. "In the winter, we go to the Farmer's Market."
It was Michele who introduced the idea of doing weddings. Believing in a philosophy of starting small and then evolving, she created a package called "An Intimate Wedding & Honeymoon For Two," which included the minister, the gazebo for the ceremony, wedding cake, toasting flutes and beverage for two, accommodations in the honeymoon cabin, dinner by candlelight and breakfast.
"It went over very well," says Michele, who also handles the wedding photography. "And now we do complete wedding and reception packages for up to 200 people that include the services of our full-time wedding coordinator, horse-drawn carriage, choice of three indoor or outdoor ceremony locations, all catering and three uniquely appointed reception halls chosen based on the size of the wedding party.
"We are privileged to host over 125 weddings per year."
Michele also created the honeymoon package and New Year's Eve party and got involved in Chamber of Commerce activities.
"All of my hobbies seem to turn into businesses," she says. "That's how the gift shop came about, too."
Besides finding and developing their niches and learning the ropes of running a first class resort, literally from the ground up, the Kraft siblings have faced a host of personal challenges, including family fallouts, divorce and raising children as single parents. But like the fairy tale weddings they are known for, the Krafts' tribulations have had happy endings.
Their father, now retired from the business, resides in Florida with his wife, Joan, and visits often. Their mother, Darlene, lives with Michele. The siblings work like an enthusiastically well-oiled team. And the resort reflects that.
"It's not just a place; it's a feeling," says Michele. "It's a world that's been developed by our hopes and dreams and the hopes and dreams of our guests over the past 30 years."
 
The team that dreams together
Three decades after the first nail was driven into the first post, the Kraft "kids" are still dreaming big.
In 2004, Denise, David and Michele and their mother bought their father out and added Denise's husband, Keith, to the partnership. A third generation of Krafts has joined the family business.
David's daughter Joanna, age 23, is front office manager and his son Jeff, age 21, works with his father in maintenance and serves in the dining room. Michele's 21-year-old son, Shawn, works on the front desk as a reservationist and, getting an early start in resort management is her 12-year-old son, Brandon, who likes to set up banquet tables and put postage on the outgoing mail.
Currently, the Krafts are going over each room with a fine-tooth comb, redesigning the couple's cabins in warm colors, adding Amish-made furniture pieces and laying the king-size beds with mattresses made especially for Forrest Hills. Someday, they plan to have water features burbling all over the property.
"Along with the hot tub, the music, the fireplace and all the other additions such as cheese balls and crackers, champagne, flowers and anything else romantic you can invent," says Denise, "you now have the perfect, private getaway.
"Our number one goal is to make sure you stop and relax, eat great food, spoil yourself at the spa and go home fully rejuvenated, ready to face the world again.
Thirty years ago, Denise and David set out to create a place that felt like home.
"We built something, people would come and they would make comments and, if we heard it enough, we'd add it," says Michele.
"This whole place is an evolution of that process, that dream."